Temps de lecture :
2
minutes
Encore un groupe qui vaut son pesant d'or…
Les pires groupes de fachos sont les « groupes secrets », les meilleures mines pour les rumeurs les plus imbéciles, et les commentaires les plus immondes…
Un exemple: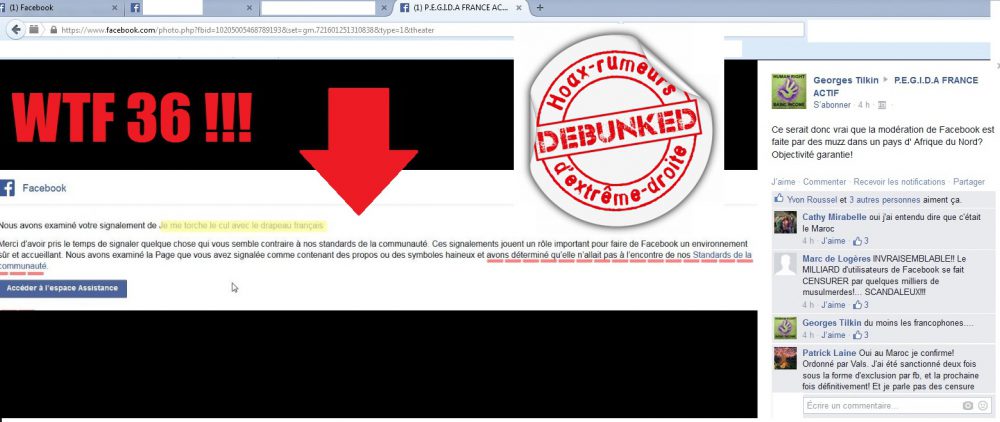 Donc en résumé: « communauté=musulmans »….
Ne leur en demandez pas trop tout de même…
Comment est (mal) modéré Facebook?
Autorégulation. Mais qui sont les modérateurs de Facebook? Ses membres, dans un premier temps. La majorité des contenus supprimés par Facebook ont été signalés par ses utilisateurs grâce à la fonction «signaler cette publication». Monika Bickert explique que son équipe (de «plusieurs centaines de personnes») se penche alors sur ces posts pour voir si le contenu doit être supprimé. Un seul ou un million de signalements ne changent rien. Celui qui aura le plus de signalements ne sera pas examiné en priorité.

24/7. Cette modération se fait sans interruption. L'équipe de Monika Bickert est composée de salariés de Facebook d'horizons différents: droit, ONG, politique, business et communication. Une partie est basée aux Etats-Unis et une autre en Irlande, où Facebook a établi son siège international. C'est de là-bas que des employés francophones examinent vos signalements.
Alors EFFECTIVEMENT, cette modération est aussi externalisée vers certains pays, DONT le Maroc:
An early version was released

last Thursday by a disgruntled employee of Odesk, Amine Derkaoui, a 21-year-old Moroccan who told Gawker that he was paid $1 per hour to trawl through the reports and determine whether they should be removed from the site or not. »It's humiliating. They are just exploiting the third world, » he told Gawker.
Mais si certains marocains le font, ils ne sont pas les seuls au monde.
La meilleure preuve c'est le nombre de pages fascistes/racistes comme celle de PEGIDA, et qui continuent à fleurir sans aucunes contraintes.
A notre grand regret.
Quand au mot « communauté », c'est « la communauté facebook » qui est visée par « les musulmans »…