Temps de lecture :
2
minutes
Un des groupes que nous visons le plus en dehors de l'hexagone est « britain first ». Et pour cause: c'est un des plus gros producteurs de fake news européen. Et leurs infaux traversent souvent la Manche.
En voici un nouvel exemple: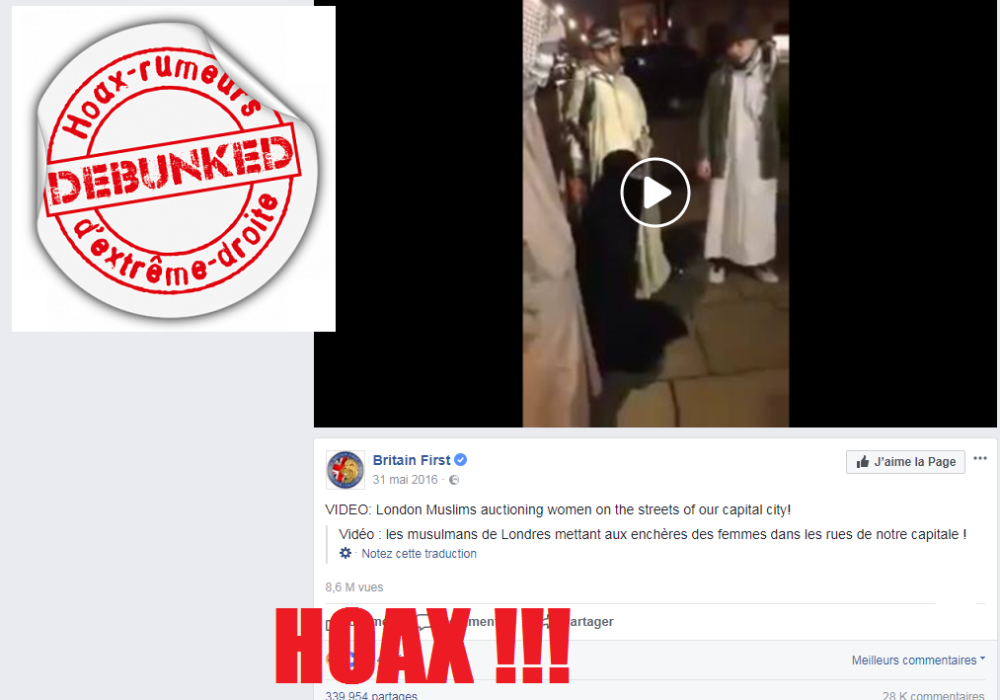 Commentaire de cette page:
VIDEO: London Muslims auctioning women on the streets of our capital city!
Traduction:

Vidéo : les musulmans de Londres mettant aux enchères des femmes dans les rues de notre capitale !
N'importe quelle personne normalement cortiquée pourra se douter de quelque chose de louche dans cet infaux. Et bien pourtant cette vidéo sous cette forme d'info a été partagée… 339 954 fois… a entraîné 41 000 partages et 28 000 commentaires. Commentaires heureusement de nombreuses personnes qui signalent le faux. Mais combien de commentaires ahuris croyant à une telle chose???? Sans compter les habituels appels à la haine.
Parce que tout ceci n'est pas ce qu'indique « britain first ». C'est une opération d'activistes Kurdes pour dénoncer justement ce genre d'immondes pratiques sur le territoire de daesh.
Le genre d'activisme intelligent (partagé plus de 25 000 fois 4 jours après l'opération) que ne ferons jamais les pingouins de « britain first ». Non ils préfèrent laisser cela à ces activistes apparemment proches du PKK, comme le combat sur le terrain d'ailleurs.
Non « britain first » eux, vont dévoyer une campagne contre daesh pour en faire de la bouillie de propagande contre tous les musulmans.
C'est facile, pas cher, et ca peut rapporter gros.
Debunked !!!